Camping options for the overland enthusiast have been dramatically increasing over the last few years. There used to be only a handful of innovative manufacturers building an off road camping trailer that can handle the back country, however today, there's now a multitude of cool options and styles available today. Here's a list of some of the popular brands available:
Ruger Off Road Camping Trailer (pictured above)
Ruger Trailers' two standard base models (C416-524 and C416-624) start at $5995 (five foot base) and $6495 (six foot base), respectively. These trailers, styled after the popular m416 jeep trailer, come equipped with a reinforced lid and frame, lockable HD draw latches, expedition frames with integrated tongue racks, extra wide tail gates (36" x 16"), four pin electric plugs, and 15" or 16" wheels made with ProComp black steel, along with other durable components. Some common extras include brush guards (front, right and left, or rear, right and left), five gallon water can holders for Scepter water cans, a 20lb propane tank, an expedition roof rack or tent rack, electric brakes, and shock absorbers, among others. Some installation prices apply for certain extras.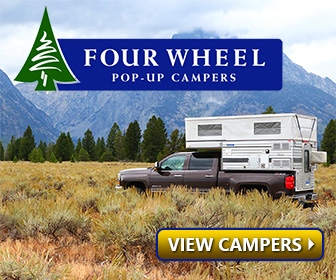 ---
Turtleback Off-Road Camping Trailers
Made in the USA, these are impressively feature-rich and well-built trailers with a ton of options and add-ons. Some of the standard features with a Turtleback Trailer include:
A sturdy, steel frame sealed with military grade epoxy and process to prevent corrosion. CNC machined chassis.
Trailer uses the UCF Flexride patented suspension system
Turtleback trailers have a full kitchen with a stainless steel stove and sink with a Delta faucet. The cabinetry is made from gap-less Baltic birch plywood and crafted by a custom cabinet maker with 20 years experience. Up to 50 cubic feet of birch lined storage including the interior and the kitchen.
Includes a 42 gallon fresh water storage tank (160 liters) and an on-demand flow-jet water pump with commercial grade, PRO-PEX plumbing. Tanks are made in USA, with BPA free food grade material.
Marine grade electrical components throughout from Blue Sea Systems includes a 12V DC socket and dual USB charge socket. Also includes a Deka AGM Battery
LED lighting using KC HiLights
There are a ton of Turtleback Trailer configurations and options to choose from, including:
Storage boxes
Custom colors
Electrical system upgrades (including solar panels)
Custom roof racks (tent, boat, table)
Awnings and tents
Water Heater
Many other options
---
VMI Off Road Trailer
Hand built and made in the USA, VMI Off Road offers multiple models called the Xtender series of lightweight, all welded aluminum (aerospace and marine grade off road camping trailers. Trailer configurations range from their basic Xtender Explorer model, which starts at $6,995 to their high-end Xtender Compass off road yacht going for a base price of $64,995.
---
Tentrax Offroad Camping Trailers
The Tentrax Trailer, lightweight and extremely rugged with a fiberglass tub and ¼" thick walled, mig welded square tube frame, offers an ample 30 cubic feet of storage, and the option of a fold-out tent and bed which sets up in just a few minutes, so you don't have to bother finding a spot on hard ground to prepare and set up a tent from scratch.
The Tentrax trailer is available in 3 models, each fully customizable:
Off-Road A/T
Boulevard
CargoPac
---
Moby1 XTR Series Trailer Offroad
This little, compact off-road trailer, the Moby XTR Series , is based on a teardrop design and is surprisingly well equipped. It packs everything you need and desire for camping, with off-road capabilities amongst the best of off-road camping trailers.  Starting at $25,500 and a dry curb weight of 1800 lbs, some of the standard features of the Moby1 XTR include:
Trailering A-arm coil spring suspension with up to 12 inches of travel.
3500 lb axles spindles and Fox Racing shocks
Custom cabinetry
10 inch electric brakes and a single lever, dual action parking brake
LED trailer lighting
46 inch interior height
Standard 54 inch width and 108 inch cabin length with full or double size mattress
Standard all-terrain tires on custom aluminum wheels
Some of the cool options available for the Moby1 XTR include:
Deep cycle battery power,
Roof top tent for additional sleeping capacity
Solar panels
Portable toile
Tankless hot water heater
Outdoor, handheld show
Stainless steel sink
Water and fuel storage
12v fridge-freezer
Powered cabin vent fan
A/C unit or sunroof hatch
Integrated propane force air cabin heater
Hannibal, heavy duty free standing awning
Generator
---
XVENTURE XV-2 Trailer
With a capacity of up to 2740 lbs and a Huck-bolted all aluminum structure which eliminates potential cracking and weld fatique, the XVENTURE XV-2 by Schutt Industries was designed to exceed the stringent performance standards of the military.
---
Adventure Camping Trailers Off Road
Chaser
Adventure Trailers are manufactured and sold under the same roof in North America. Adventure Trailers' Chaser trailer is built for and thrives during off road travel. The team at Adventure Trailers states that the Chaser is inspired by the classic M416 trailer. With a low center of gravity, the Chaser is perfect for those looking to conquer rugged terrain. Features include: 46 cubic feet of storage, Adventure Trailers' Trailing Arm suspension system called TAAS 4.0 (which was developed over 10 years in all kinds of terrain), single unit airbag and shock absorbers, interior cargo tie down points, and a zinc coated steel finish, along with many more customizable modifications. A standard Chaser kit retails for close to $7700. See an Example Chaser Offroad Trailer Build.
Teardrop
The Teardrop pairs a classic design with modern engineering. With high ground clearance and ample storage room, like the Chaser, the Teardrop works well for camping in widely varying terrains. The base Teardrop weighs 1285 lbs (584 kg). Typical option configurations bring the weight to 1600-1800 lbs (727-818 kg). Base Price listed on the website for the Adventure Trailers Teardrop model is $14,268
Standard Features: TAAS 4.0 suspension system, laser cut chassis (base frame); interior drawers, shelves and cup holders; Baltic birch interior and anodized aluminum body, and a full size mattress, to list a few.
Options Include: Electric brakes, Adventure Trailer roof rack system, high efficiency air propane heater, and a two way opening fridge.
Adventure Trailers is also willing to build customizable options for both products listed above, so if you want a trailer built exactly to your liking, you should contact them to find out if they can rig your perfect off-road trailer.
---
Rockbox Offroad Trailers
Rockbox Offroad Trailers (RBX) is family operated business out of the Salinas Valley in California. RBX sells an Offroad Adventure Trailer Parts Kit, a Steel Series Adventure Trailer, and an Aluminum Series Adventure Trailer also in the style of a M416 Jeep Trailer.
OffRoad Kit
Base – $4800
Steel Series Adventure
Base – $6005 (no lid)
Base – $7500 with lid
Aluminum Series Adventure
Base – $7800 (no lid)
Base – $9500 with lid
Common additions to any RBX trailer include: a steel lid with pin hinges, top rack and load bar system, fuel holder, stainless steel water tank with included pump, generator box, tailgate, and a carpet kit. Check out Rockbox Offroad Trailers for more information.
Subscribe to Savage Camper
Receive an occasional newsletter from Savage Camper