There is no shortage of camp kitchen checklists. The most comprehensive include everything from a stove, to salt and pepper, to "the kitchen sink". By contrast, what we have here is the "Basic" camp kitchen – eight pieces of camp kitchen gear that everything else on the more comprehensive checklists revolve around. The pieces included here are "basic" in another sense as well. That is because they make you to feel good when using them. Yes, you can get by just fine skipping the camp dishes and using a utilitarian mug for scrambled eggs AND soup AND coffee. But to sit down to a campfire meal with friends and family and eat off of a plate with utensils, and pour coffee into a coffee cup from a coffee pot, all surrounded by the glow of lantern light, is part of the total camping experience that nothing else can duplicate.
NOTE: At the end of this article you'll find the Savage Camper version of the Ultimate Camp Kitchen checklist, which combines several large and popular camp kitchen checklists into one list with the components included in alphabetical order. Use the list in combination with this Basic Checklist below to begin to build your own ultimate camp kitchen.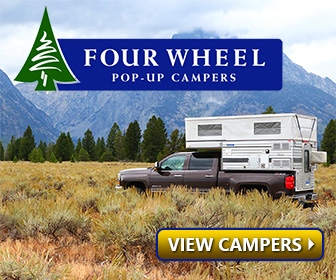 ---
Camping Kitchen Table
Coleman Pack-Away Deluxe Kitchen Table
There is no hassle-free camp cooking without a convenient table as kitchen headquarters. The Coleman Pack-Away Deluxe Camp  Kitchen Table serves that purpose. Features include a side table designed for a 2-burner camp stove, condiment racks, removable sink basin, pantry shelf and lantern hook. The heavy-duty rust-resistant steel frame folds up into a compact unit for one-handed carrying. Another camp cooking table that provides storage space with a good height for cooking is the GCI Outdoor Slim-Fold Cook Station.
---
Camping Stove
Camp Chef Everest High Output 2 Burner Stove
The Camp Chef Everest 2-Burner Stove not only looks good it cooks good. Two burners fueled by a disposable propane tank ignite with the matchless Piezo ignition system and put out 20,000 BTUs of heat each. The nickel-coated steel cooking grate is strong and built to hold pots, griddles and skillets. It has a locking lid and handle ready to pack up and accompany you on any adventure.
Other Top 2 and 3 Burner Camp Stoves that you might want to check out:
---
Cast Iron Dutch Oven and Skillet
Lodge LCC3 Logic Pre-Seasoned Combo Cooker
No piece of camp cookware is so versatile or is the source of so many campfire memories as the cast iron skillet. With this camp cookware classic you get a 3.2 quart Dutch oven and a 10.25-inch shallow skillet that doubles as a lid. It comes pre-seasoned and ready to use. This Lodge Cast Iron Combo cooker is a perennial Amazon best seller. It is a multi-purpose piece of cast iron cookware that accommodates the preparation of almost any recipe.
---
Camping Coffee Pot
This coffee pot is an outdoors classic. You get an old-fashioned good looks and percolator convenience in one rugged package. It's made of heavy gauge enamelled steel that has been kiln-hardened twice at 1400 degrees to resist scratches and chipping. The pot – handle and all – can sit close to the fire to keep coffee hot for hours. The 3-ply construction equalizes heat distribution. For those who are a little more picky about their coffee drinking, try the REI 32-ounce Table Top French Coffee Press. It's a simple way to brew fresh coffee. The pot is insulated to keep the coffee drinkable longer.
---
Camping Bucket
For washing dishes after a meal, use this 3-gallon Seattle Sports Camp Bucket. It's also handy for hauling water and washing cloths. 10.5 inches tall and 9.5 inches in diameter, It's made of vinyl-coated nylon and has an abrasion-resistant bottom.
---
Camping Knife
Morakniv Craftline Pro C All Round Fixed Utility Knife
You need a good knife in your camp kitchen. This Morakniv Fixed Blade Utility Knife will do the job. It has a stainless steel blade which maintains an edge and is easy to care for. The ergonomic handle of TPE rubber provides a comfortable, firm grip. You will find plenty of uses for this knife around the camp kitchen including slicing and filleting.
---
Camping Lantern
You don't have to cook or eat in the dark. The Black Diamond Apollo Lantern provides 200 lumens of not-too-bright light thanks to the clouded plastic surrounding the lamp. A dimmer adjusts brightness.Three rubber tipped legs fold down to increase the lantern's height and maximize light dispersion. Two metal hooks at the top give you hanging options.
More Camp Kitchen Lighting Options
---
Camping Table Set
GSI Outdoors Cascadian Table Set
The set includes a 9 1/2" plate, 6" bowl, and 12 oz cup. Everything is made of polypropylene that is lightweight, durable, easy to care for and easy to pack. Each set includes a convenient mesh bag.
---
Camping Can Opener
This tried and true can opener has a smooth, gear-driven function. It was the can opener selected by NASA for the Skylab Space Station. As a can opener back-up always keep a couple of P-38 or P-51 can openers made by the U.S. Shelby Company on your key ring. These little gems never fail.
With that basic inventory you'll have the essential camp kitchen. From there you add items that you habitually use and rely on.
As promised above. here is the Ultimate Camp Kitchen checklist compiled by consolidating all of the camp kitchen checklist items from several reliable sources, including REI, Outdoor Lab, Reserve America, and others. The list is meant to be comprehensive – not short. Some items included are a little far-fetched for camping. Sometimes the same item appears twice by a slightly different name: "foil" is also "aluminum foil." Everything is broken down into its most basic  components. A "table set" for example, appears on the list as individual items: plates, bowls and cups. Pick and choose items from this list and add them to the classic checklist above to build your own personal camp kitchen.
---
The Ultimate Camp Kitchen Checklist
Aluminum foil,
Ax
Biodegradable Soap
Bottle Opener
Bowls
Bug repellent
Camp Sink
Can opener
Chairs
Charcoal
Chopping knife
Clothes line
Clothespins
Coffee pot
Collapsible water container(s)
Container for food storage
Cooking oil
Cooking spoon
Cookset
Coolers
Corkscrew
Cups
Cutting board
Dish pan
Dish rags
Dish Soap
Dishwashing tub
Drying Rack
Dust brush
Dutch oven
Egg Holders
Extension sticks / roasting Items
Fire starter
First aid kit
Foil
Food Storage Containers
Frying pans with lids
Fuel bottles
Funnel (s)
Grill
Grill forks
Hand crank blender
Kitchen organizer
Knife
Lantern
Lighter
Matches
Measuring cups
Measuring spoons
Mixing bowl
Mugs
Napkins
Pam spray
Pans
Paper cups
Paper plates
Paper towels
Paring Knife
Pie irons
Plastic bags
Plates
Pot holders / oven mitt
Pot scrubber
Potato peeler
Pots with lids
Propane
Rope
Saw
Scrub pad
Skewers
Spatula
Sponge
Stirring spoon
Stove
Table
Table cloth
Tarp, poles, ropes, stakes
Thermos
Thumb tacks
Tongs
Towels
Trash bags
Utensils
Vacuum bottle
Washcloth
Water bottles
Water filter
Water Jug
Water purification
Whisk
Windscreen
Wood (for burning)
Work gloves
Ziplock bags
I would be interested in receiving a copy of what you come up with for your own personal Ultimate Camp Kitchen Checklist. Post in comments below.
Subscribe to Savage Camper
Receive an occasional newsletter from Savage Camper