Miguel Martinez of Texas is the owner of this budget overland 1995 Toyota Land Cruiser build. He's the mastermind behind rescuing and resurrecting this Toyota for roughly $6,500, with the goal of crawling & camping different OHV and state parks around Texas with the family. It's proof that skills in bargain hunting, DIY mechanics & fabrication, and practicality can net you an overland vehicle that can hang with big dollar rigs.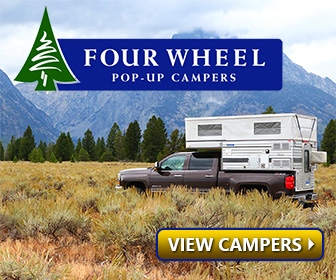 "The greatest thing about my Land Cruiser is that it's truly a budget build. I paid $600 for it and I have maybe $5-6k into it." states Miguel. "I feel a great sense of pride knowing that my $6,500 Land Cruiser can hang with the $40k plus rigs!"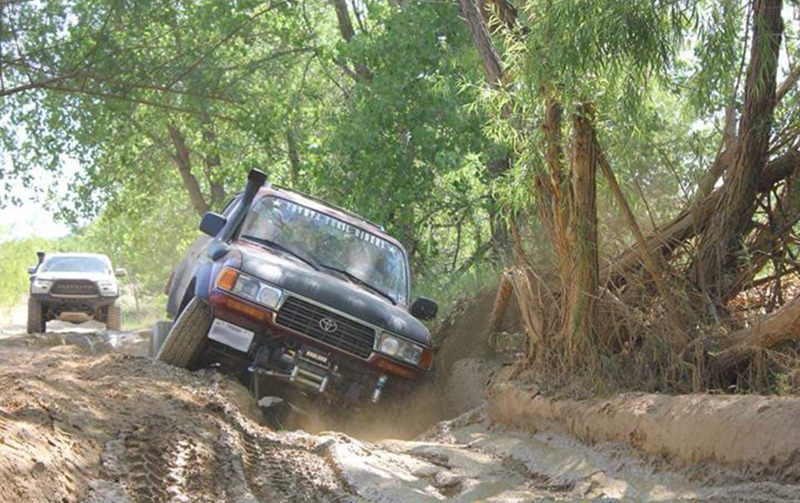 How Did Miguel Pull Off a $6,500 Overland Land Cruiser?
Miguel found the Land Cruiser sitting in someone's backyard, somewhat abandoned with weeds growing up over the running boards. The original owner had maintained it well for 245K miles, but the Toyota SUV finally ended up with a bad radiator. The previous owner did not want to sink money into it, feeling the Land Cruiser wouldn't last much longer. To Miguel, it checked out to be in good shape otherwise, so he relieved the owner of the burden for $600 and became the new owner. He simply jump started the battery, the Land Cruiser started right up and he pulled it right onto trailer.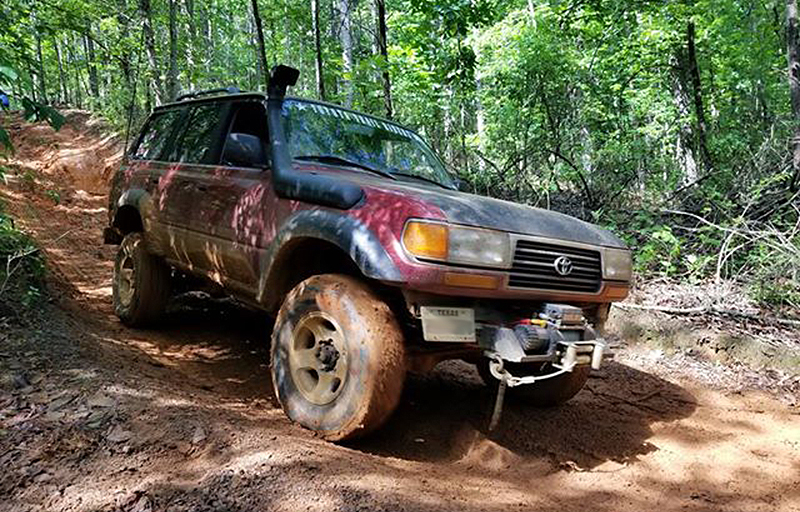 Budget Land Cruiser Overland Upgrades
On weekends, with help of a friend sometimes, Miguel did all the work himself to transform this former daily driver and bring out it's inner overland beast. The bad radiator and starter were replaced. Preventative maintenance was done on the powertrain.
In the front of his Land Cruiser, Miguel removed the stock bumper, and mounted a 12000 lb harbor freight winch to a custom winch mount he fabricated. He also fabricated his rear bumper, with a swing arm for the spare tire, using junk yard parts and some c-channel from the local scrap yard. To improve armor further, Miguel fabricated rock sliders using factory FJ cruiser sliders.
Suspension was upgraded to an Old Man Emu heavy load 3.5 inch lift kit, greatly enhancing this land cruiser's overland capabilities.
Rubber on the road is currently factory-sized Firestone All-Terrain tires on stock rims. Miguel does plan to upgrade to 35 inch tires, as he commented, "People see me with factory sized all-terrains and expect me to have issues but then are jaw dropped when they see I can hang with the rigs running aggressive mud terrains."
Factory fender flares are in place, just sprayed with Raptor Liner, which was also used to coat the rear bumper and swing mount.
As you probably guessed, installation of the snorkel was a DIY project as well, which was a budget buy on eBay after Miguel researched the snorkel's performance to match other more expensive brands. He also added KC HiLiTES in the front.
Finally, as far as the the interior goes, all it needed was just cleaning, with a whole array of communication devices installed to tackle any situation he may encounter.
Thanks Miguel for sharing how you achieved such an awesome overland rig on such a frugal budget – truly a Savage Camper!
Subscribe to Savage Camper
Receive an occasional newsletter from Savage Camper