Have backpackers on your Christmas list? Well, here are 12 stocking stuffers that will keep you on their nice list. Even if you are not a backpacker, there's a gift idea or three on this list that will bring a smile Christmas morning and for years to come to that special someone on your list. They're in no particular order because they are all awesome and in a variety of price ranges to help make your shopping easier. I know I found some gift ideas putting this list together so give a cool gift or better yet, treat yourself!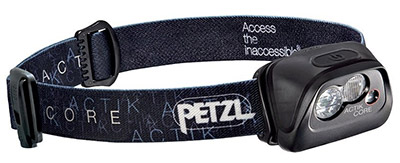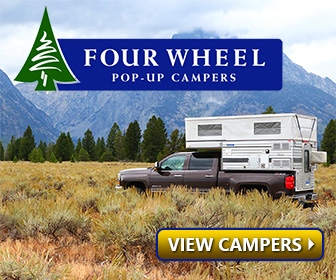 Whether searching in the dark tent for your socks or working in the crawlspace, the ACTIK CORE will come in handy. It comes with a CORE rechargeable battery that charges via micro USB port (charging cable included) and is also compatible with AAA batteries. The Actik features a max autonomy burn time of 160 hours and a max power of 350 lumens with two beam patterns (wide and mixed) to meet your need for high-performance lighting for outdoor activities. Red lighting preserves night vision and prevents blinding other members of the group. Price: $59.95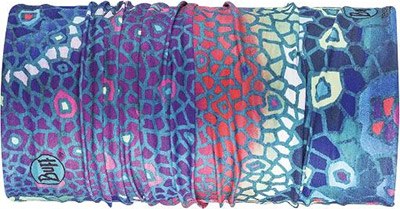 UV protection just got stylish with headwear from Buff. Built-in stretch gives this gear versatility; wear it climber style or as a bandana, hairband, helmet liner, headband or scarf. Special knitting process yields improved UV protection, with a UPF 20+ rating. Highly breathable CoolMax polyester draws sweat off the skin and dries quickly; in turn, you stay dry and comfortable. Seam-Fre construction means there are no irritating seams or hems, making it ideal to wear under a helmet or other headwear. Price: $25.00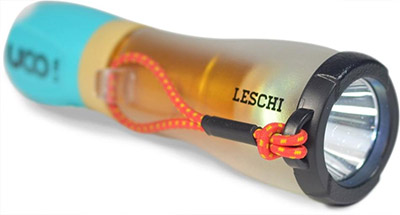 Light up the campsite with one AA battery! Patented shock cord mounting system attaches to bars, trees and guy lines up to 1.5 inches in diameter. 110 lumens and a 3.25 hr. run time. Durable aluminum body shrugs off rain and snow with IPX6 water resistance and 3 lighting modes: high, low and strobe. Loaded with a battery this little lumen cutie weighs 2.5 ounces. Price: $12.95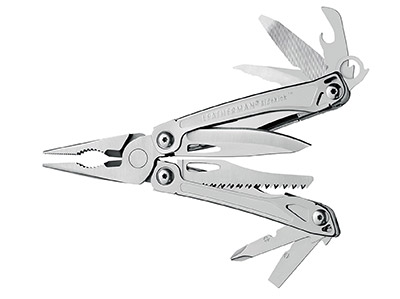 This 7 ounce knife will make you a favorite gift-giver among anyone. I carried a Leatherman for 15 years as a state trooper. It came in handy more than my sidearm. Leatherman's  Sidekick Multi Tool has all the basic tools you need at an affordable price. The handy, outside-accessible blades mean you can open the knife with just one hand and rounded handles make getting a grip around their all-new, spring-action jaws easy and very comfortable. Its stainless steel construction, 15 tools in one multi tool, Leatherman quality and 25 year Leatherman guarantee give it a value that can't be beat!
Includes: Wood/metal file, saw, small screwdriver, medium screwdriver, phillips screwdriver, ruler (1.5 in) bottle opener, can opener, wire stripper, carabiner accessory, hex bit driver and bottle opener. Features: lanyard ring, removable pocket clip, stainless steel and 25-year warranty. Measures 3.8 inches overall and 2.6 inch blade length. Price: $47.95
See More Backpacking Mult-Tools

At 8.5 in. long, the Sea To Summit Alpha Light spoon lets you scrape up every last bite of food from your freeze-dried pouch without getting your hands all messy. Made from aircraft-grade 7075-T6 aluminum alloy that is hard anodized for excellent durability. This long spoon weighs in at a mere 0.4 oz. Includes a small accessory carabiner so you can clip the spoon to a pack, mug or additional utensils. Price: $8.95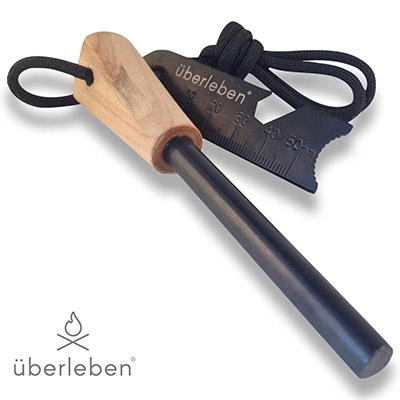 The Überleben Zünden isn't your typical fire starter. The solid Hardwood handle provides natural textured grip and the materials & craftsmanship used to make the Firesteel is of the highest quality. It contains an exceptional mixture of materials that produce a higher temperature spark: 5,500° F! The higher temperature spark is more effective at starting fires, lighting stoves and barbeques in any weather and at any altitude – rain, shine, snow, or fallout.
Kit includes a sturdy ferro rod with a smooth wooden handle, a stylish mil-spec 550 paracord lanyard, a concave-toothed steel scraper that also works as a ruler, map scale, and a bottle opener. Get up to 12,000 strikes from thick 5/16″ (8mm) ferrocerium rod, Überleben Firesteel requires no flints, lighter fluid, batteries or replacement parts. They never have to be re-supplied and they don't jam, get damp, or fail like matches and butane lighters. If you like to start campfires, use Überleben Firesteel to ignite tinder, cotton balls or the jute string provided works well too. Price: $16.00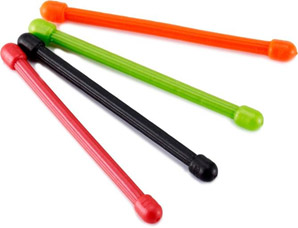 If you need to secure anything like jumper cables, power cords or tent poles or if you just don't want to spend much money on your backpacker, you can use a 4 pack of these handy ties and best of all they make a unique and cheap gift. Great for looping and hanging lightweight tools and lanterns, the uses for these simple twist ties are endless. Tough and non-marking rubber shell is grippy, waterproof and UV-resistant. Made in USA. Price: $6.99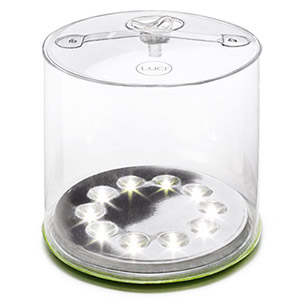 Last summer, I packed one of these solar lanterns in my pack with the intention of hanging it on the pack at the trailhead so it could soak up some solar charging…I forgot. Hours later at camp, I dug it out in the dark, turned it on and was amazed it held a charge for the several months since the last time I charged it. I hung it in a tree and behold it was still illuminated in the morning.
The MPOWERD Luci Outdoor 2.0 is an extremely durable, lightweight inflatable solar light that collapses flat to 1 inch so you can take a little light wherever you go and still have plenty of room for all your gear. Because it's completely powered by the sun with no batteries needed, you can just place it in direct sunlight for 7 hours and this light will last up to 18 hours on a single charge.
Luci Outdoor 2.0 is built for adventure, so it's perfect for camping, hiking, kayaking, or anytime you're headed off-grid The adjustable bottom strap lets you attach it anywhere without needing an extra hook. Completely waterproof and fully submersible with an IP67 rating, Luci Outdoor 2.0 is game for anything, no matter how extreme the adventure.  Read Savage Camper's Luci Lantern Review for more info how the lantern peforms when camping. Price: $19.95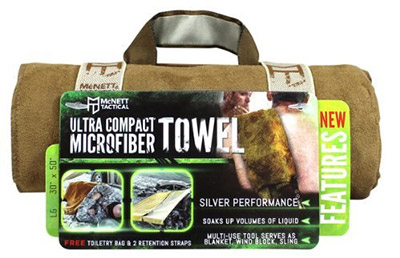 It works. Ultra-compact microfiber towel; dries fast, packs small and is great for use in the field, camping, traveling, trekking. Silver treated microfiber is light weight, super absorbent, and inhibits the growth of odor causing bacteria; eliminating the need to wash daily…I've been waiting for this since I was five years old! High density microfiber weave is an aggressive yet soft cleaner; gently removes oil, dirt and perspiration. Price: $18.33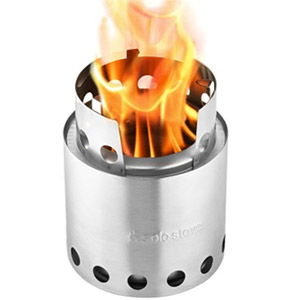 Okay, so it is more of an awesome gift than a stocking stuffer, but this award winner is so cool that it has to be included in this list. This Gear of the Year winner recommended by Backpacker Magazine has a patented design that features a unique double wall that creates ultra-clean gasification and a secondary combustion. This allows fuel to burn more completely and with less smoke. No more spending money on white gas or expensive liquid canister fuel.
Solo Stoves use twigs, leaves, pinecones and wood as fuel. Free up more space in your backpack and eliminate the need to carry heavy, polluting and expensive canister fuels. Boils water in 8-10 mins. 4.25″ Diameter, 3.8″/5.7" tall (packed/assembled).
Solo Stove weighs only 9 oz.  Made of premium stainless steel and nichrome wire. Nylon stuff sack included. The compact Solo Stove design nests inside the companion Solo Stove Pot 900 (not included) leaving you with more room in your backpack…very cool. Price: $69.99
See More Wood Burning Backpacking Stoves
See DIY Backpacking Stoves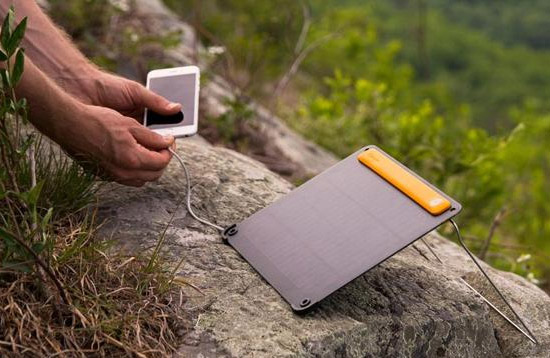 Find a way to stuff this in a stocking! With increasingly better cellular coverage for emergencies and detailed mapping apps, most of us are taking our phones with us backpacking. This beauty makes sure you can use it. Powers tablets, phones, lights and other devices in real time when the sun is shining, or from stored energy thanks to the integrated 2,200 mAh battery. 360° kickstand and sundial align to the direction of the sun. Features 2 corner loops for attaching rope or carabiners, high-efficiency 5-watt monocrystalline solar panel and ultra-slim design that creates a minimalist profile that slips easily into your pack. Price: $79.95

Keep your gift recipient alive. There are a few items we should always have handy when in the backcountry, just in case… and here is one of them. It is not feasible to pack a sleeping bag everywhere, but an emergency blanket is a great idea whether we are stranded in the car on a winter night or going for a remote day hike. Bright orange exterior of this bivy is easy to spot, even in bad weather. Measures 84 in. x 36 inches, weighs 3.8 ounces and is sized to shelter 1 adult. Waterproof, windproof material is seam taped for complete protection from the elements. SOL emergency bivy packs down small into the included stuff sack. Price: $16.95
See More Bivy Sacks for Backpacking
Subscribe to Savage Camper
Receive an occasional newsletter from Savage Camper (no spam)!