If you're not already familiar with today's selection of teardrop trailers, there's alot of manufacturers that have taken their well-known design and function to a whole other level. However if you are familiar, you've probably seen that many of these are not necessarily an affordable teardrop trailer, coming with a stout price tag of $10K, $15K, even $20K.  If you're a couple or individual in the market for a new teardrop camper, here's a list of some affordable teardrop trailers to consider that come in under the $7,000 mark: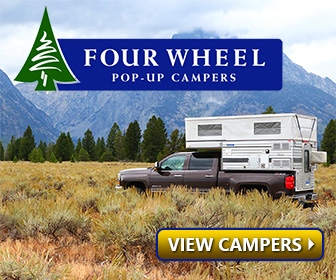 ---
TC Teardrops (Pictured Above)
Based in Wisconsin, TC Teardrops has three base models that fall between $5,200-$6,700 approximately. Not only are these some really visually unique and appealing teardrops, there's a laundry list of standard features included. Here's some of the highlights:
Powder-coated sides with the option of 188 different colors.
Aluminum diamond plate roof and fenders
2 tinted windows and doors with screens
LED lighting: interior and exterior
Custom-built cabinets w/ slide our table inside
12V accessory outlet, 2 port USB, voltmeter. 12 Volt battery box w/ fuses
The 3 models of TC Teardrops that come in under the $7K mark are the 4×8, 5×8 and 5×9 foot models.
---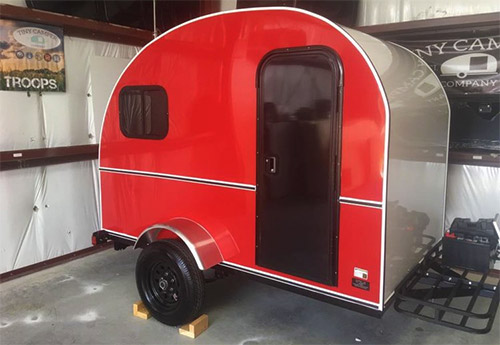 Tiny Teardrop's Canned Spam
These are some very nice looking teardrop trailers – and talk about affordability! All models Tiny Teardrop Camper offers have a base price that come in well under the $7K mark, ranging approximately $3,400-$5,000. Pictured above is their largest model, called Stand Up Canned Spam ha! Despite the very affordable pricing, lots of standard features and amenities come with these trailers, which vary depending on the model.
---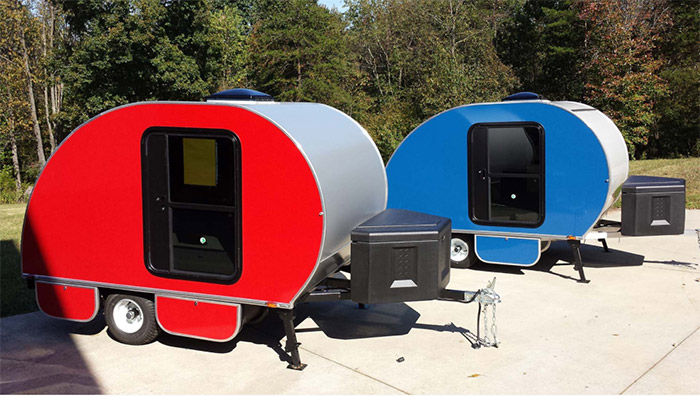 Star City Teardrops
All of Star City Teardrops base models (3 of them) come in between $4,000-$6,000.  These are also very lightweight trailers, thanks to lightweight materials used, including a custom, aircraft-grade aluminum frame. Star City Teardrops clearly states that their teardrop trailers "can be towed by small auto such as Honda, Subaru, Miata, Mini Cooper, Fiat 500, Chevy Cruze, etc." What I personally like about these teardrop trailers is their practicality for the price, including all of the following as standard features:
Leveling jacks in the rear, swivel jack in the front
Memory foam mattress
Interior/exterior LED lights
Baltic Birch Plywood interior
Entire exterior coated in epoxy sealer. Underside waterproof coating
Quiet 3-speed roof vent
Tongue-mounted storage box
12-Volt and 120-Volt electrical system. USB charging ports. Can plug into campground power if available.
Screened doors with deadbolt locks
2 locking exterior storage compartments under the trailer
---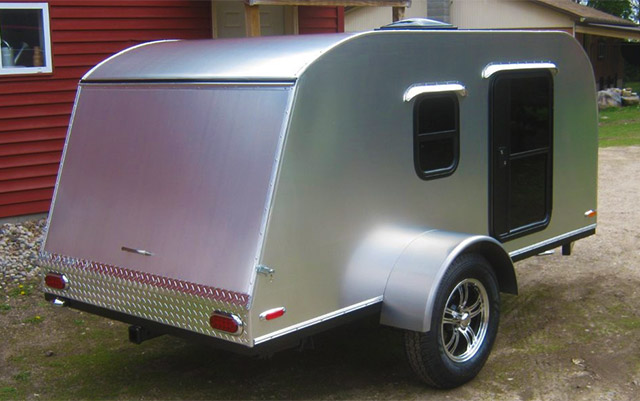 RetroRide Teardrop Trailers
Clearly modeled (and branded) after the elegant designs for teardrop trailers of the past, RetroRide Teardrops have two models under 7K, their 4×8 and 5×8 foot models. Standard features include:
Front hitch rack
3-speed roof vent
12-Volt & 110 power with lights & outlets
Power control charger box
Leveling jacks
Custom wood cabinetry galley
LED running lights/tail lights
2 doors
---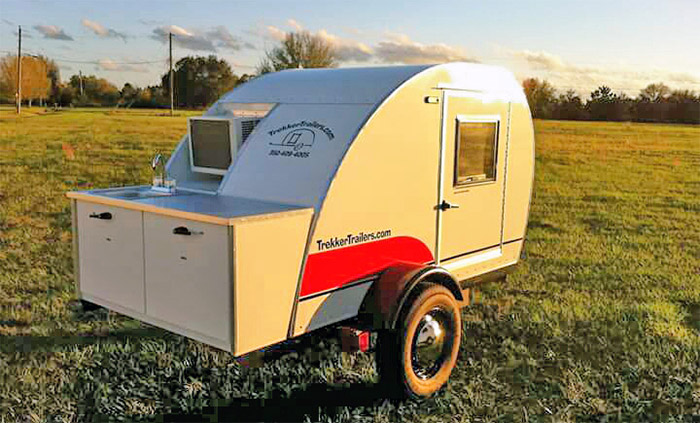 Simple Sleeper by Trekker Trailers
Pictured above is the 4 foot wide Simple Sleeper teardrop trailer with their optional outdoor kitchen, which when included, the trailer comes in right at the $7,000 mark.  Standard features include:
Air conditioning!!!
A drop floor for more interior room
Bed converts to couch
Mattress
2 doors
---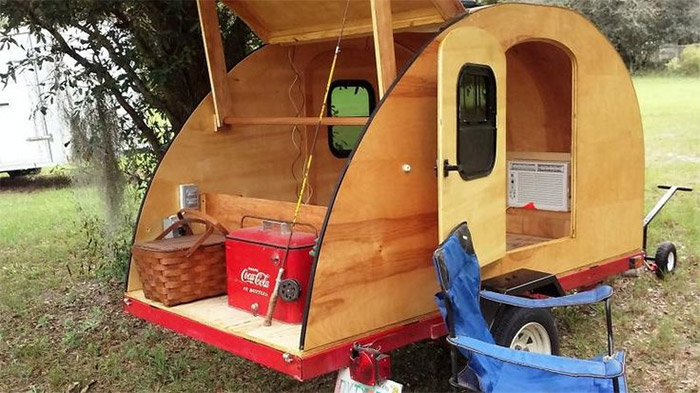 Honey Badger Wood
Right off the bat you can tell what's unique about Honey Badger – a wood teardrop exterior made of hand-picked birch, coated with multiple layers of high-grade polyurethane to protect it from the elements.  All of Honey Badger teardrop models start between $2,500 – $3,300 and are very lightweight at approx. 450-500 lbs. Standard Features include:
AC power outlet, 2 USB charging ports
Shelf and Cabinets
Roof Vent
*NOTE – Honey Badger's website seems to have gone dark, so it they may be out of business?
---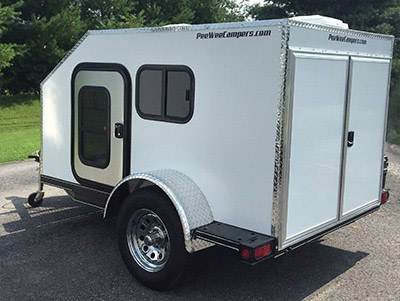 Peewee Half-Pint Econo
Coming in at around $6,300, the Half-Pint Econo base model weighs about 740 lbs. There are of course lots of options, but the features included are:
12-Volt charger, USB port and deep cycle battery
Smoke detector and fire extinguisher
LED interior and exterior lights
Side door & rear doors
Roof vent
Stabilizer jacks
Subscribe to Savage Camper
Receive an occasional newsletter from Savage Camper